by George Vernon - SDGLN Contributor
PALM SPRINGS, California -- For decades, Palm Springs has been a relaxing getaway for Southern Californians and a vacation destination for people around the globe. As the city in the desert continues to reinvent itself, travelers have hundreds of choices for lodging accommodations, including resorts, large chain hotels, budget motels and trendy properties complete with poolside DJs and more.
But one type of lodging with only a few options in Palm Springs is the bed and breakfast -- typically a small lodging or private home that provides a full morning meal, beyond the basic "serve yourself" continental breakfast that many hotels and motels offer. A bed and breakfast also allows for a higher level of personalized service from the staff.
And that is exactly what the POSH Palm Springs Inn provides -- Personable Service & Hospitality. Owners and partners Tony Gangloff and Santo Aloisi treat every guest like they are visitors in their own home. Upon check-in, each and every guest is personally greeted by Tony and Santo, given a brief tour of the property and amenities, and that is just the beginning.
Tony and Santo, who say they "fell in love with the POSH Palm Springs Inn from the moment [they first] saw it," purchased and took over the property just over a year ago. "The time had come to live out a lifetime dream of owning and operating a small friendly bed and breakfast," they said during a recent visit.
"During the course of our lives, we have always enjoyed being hosts to our friends and family in our home and wanted to take the experience to the next level," Tony and Santo said. "After having experienced the friendly, vibrant atmosphere of small inns across the country as well as internationally, we wanted to create that same experience for our guests. We have built an atmosphere where memories are created, encouraging guests to return again and again."
The atmosphere they have created is one where guests are encouraged to make themselves at home, relax, and be comfortable. From the guest rooms, to the pool deck, to the dining area, guests will find themselves at home, and with many of their needs attended to. Because of their extensive travels and visits to other lodging accommodations, Tony and Santo believe in providing top notch amenities to all of their guests, without nickel-and-diming them. This includes things like free bottled water and snacks in all guest rooms, Keurig machines in each room with complimentary coffee and tea, free Wi-Fi access, free parking and more. In the outdoor dining area, free iced and hot tea and lemonade are available around the clock.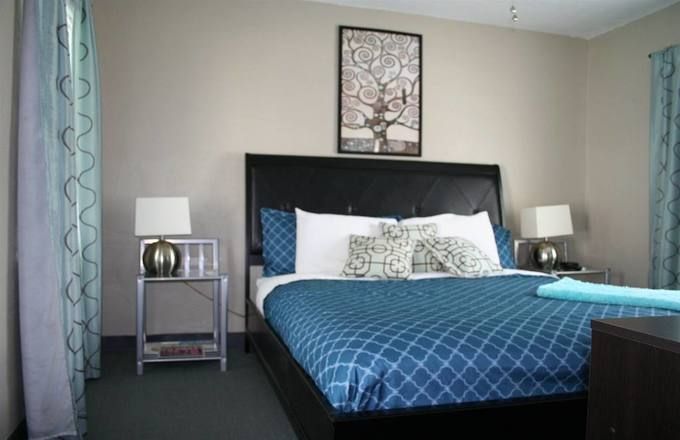 Built in the 1930s, the Art Deco-inspired property includes nine guests rooms, each with a unique style of their own. Each room includes a brand new plush California King bed, and are beautifully decorated with vibrant colors. The rooms vary in size, with full-kitchen suites available, and all include brand-new TVs with complimentary on-demand movies, alarm clocks and full-size bathrooms. The suites with kitchens include stoves, refrigerators, plates, cups and utensils. Those looking for a relaxing getaway will find it at POSH Palm Springs Inn, as the property sits in a quiet neighborhood. Guests will find peace at the resort, even if it is operating at capacity.
The rooms surround a beautiful pool deck, which includes a large swimming pool and jacuzzi, lounge chairs and pool towels. Guests are invited to enjoy the pool deck while visiting the resort and there are no posted hours, which means it's open around the clock. By day, guests can enjoy the year-round Palm Springs sunshine, and by night guests can enjoy the night air and quiet serenity of a desert after dark.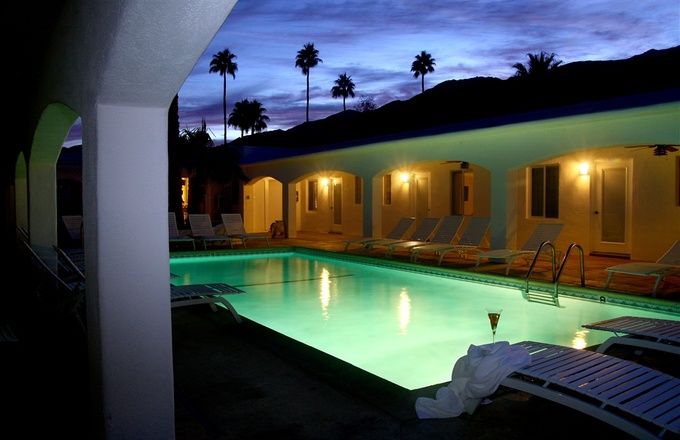 POSH Palm Springs Inn is located centrally, and very close to the Palm Springs Uptown area, filled with shops, cafes and more. The resort is near many of the major events that draw visitors from around the world, including being steps from the new layout of the Palm Springs LGBT Pride festival and parade, held each November.
And of course, the POSH Palm Springs Inn is a bed and breakfast, which means a hearty, home-cooked breakfast is served to each guest every morning. The breakfast menu rotates daily, and includes an entree, fruit and side dish. All entrees are created vegetarian-style with meat on the side, so there is something for everyone.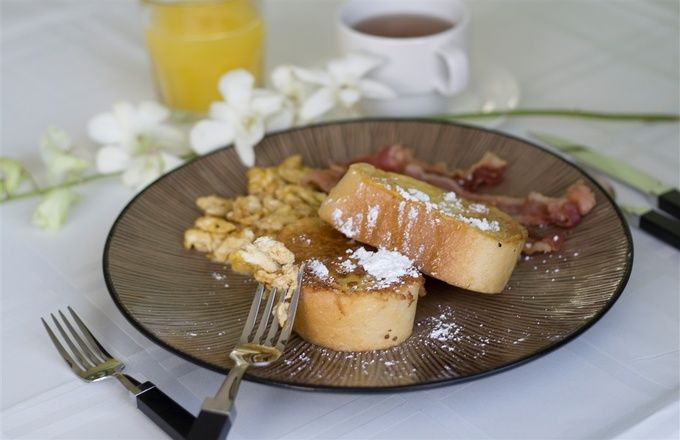 Tony, who does much of the cooking, said that a guest would need to stay at least nine days at the resort to have the same dish repeated.
Besides breakfast, a happy hour is served daily from 4-5 pm where guests can enjoy wine or cocktails, including the signature "POSH Martini." Those interested in finding out what this special cocktail is all about will need to make a reservation to find out.
THE DETAILS
Here are the details on POSH Palm Springs Inn.
Street address: 530 E. Mel Ave. in Palm Springs, CA
Phone number: Call 760-992-5410 for reservations and more information.
Website: www.poshpalmsprings.com
Find POSH Palm Springs Inn on Social Media: Facebook, Twitter, TripAdvisor, Pinterest, and Yelp