by Ben Cartwright - SDGLN Staff Writer
SAN DIEGO -- Most dog owners consider their pets to be their best friend and a member of the family. As such, these doggie friends deserve the highest quality care when their owners are away. The Golden Paw, which has locations in Bay Park and Hillcrest, is one of San Diego's premier pet resorts with an impressive array of amenities, service and staff.
The Golden Paw offers dog boarding, dog day care, full service grooming and obedience training by an experienced staff that is ready to serve your dog's needs. The beautiful facilities offer decorated suites that include flat screen televisions, plush bedding and web cameras for owner viewing.
The company is run by CEO Ben Vosberg, who opened the first Golden Paw location in Bay Park in 2001.
Vosberg says his company became an industry leader immediately after opening the first location because of its experienced staff, checks and balances, and the level of care provided to each dog while staying at the Golden Paw.
"We treat every dog that comes into our business like a family member," Vosberg said. "When you consider lodging your dog you want a facility that takes the best care of your dog and that your dog is happy and safe."
To take the level of care and service to the next level, The Golden Paw is the only facility of its type in San Diego that allows clients to customize their pet's experience by choosing a level of activity unique to their dog's needs.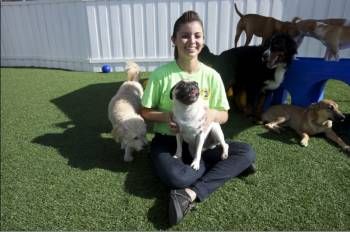 Vosberg said that unlike other pet resorts which typically charge a flat fee of $55 per night no matter what the activity, stays at the Golden Paw start at $26.95 and provide a variety of other packages and options for clients to choose from.
In recent months, The Golden Paw has made some big improvements and changes to its facilities, with a fresh new look. The upgrades include new flat screen TVs and full-time dog training at the Bay Park location; additional play yard webcams at the Hillcrest resort; updated comfy standard suites; extended grooming hours; updated flooring; and fresh paint.
Potential clients are welcome to come by for a guided tour of the facility any time during business hours. Vosberg and his team are sure that the care, comfort, beauty and security they provide will "truly make your tail swag!"
For more information about The Golden Paw call 619-299-2730 or visit the website.
The Golden Paw's social media accounts include Facebook, Instagram, Twitter, and Yelp.

Bay Park location
5305 Metro St.
Open Monday-Friday 7 am to 7 pm
Saturday 9 am to 3 pm
Sunday 12 noon to 5 pm
Hillcrest location
3915 Ninth Ave.
Open Monday-Friday 7 am to 7 pm
Saturday 9 am to 4 pm
Closed Sundays