by Ben Cartwright - SDGLN Staff Writer
WEST HOLLYWOOD, Calif. -- LGBT people from around Southern California and beyond will converge on West Hollywood this weekend for LA Pride, which is said to be the largest gathering of the LGBT community in Southern California.
Like most Pride events in major cities, the weekend will include a number of parties, a two-day festival, and a parade - all with a bit of LA-style flair.
Here is a guide to many of the major events that will be happening in West Hollywood this weekend:
The Purple Party

LA Pride's traditional Friday night program is devoted to the ladies. The evening includes several events geared toward the women's community, including the popular Purple Party. The 5 pm event is free and takes place on the grounds of the LA Pride Festival in West Hollywood Park.
Along with the annual WeHo Dyke March which takes place during the Purple Celebration, tonight's festivities include music, dancing, and a chance for women to gather and rally together in solidarity.
The entertainment lineup for the Purple Party includes headline performances by Uh Huh Her and Luciana.
More information is HERE.
WeHo Dyke March and Rally
The annual WeHo Dyke March and Rally brings together people of all ages to celebrate the achievements of the lesbian community and realize the challenges still to come. The event begins tonight with a rally at the LA Pride festival grounds (during the Purple Party) and is followed by a march down Santa Monica Blvd. which returns to the starting point to celebrate.
The march begins at 7:30 pm. More information is HERE.
Transgender reception
LA Pride invites members of the transgender community to a reception and party this evening on the LA Pride festival grounds starting at 7 pm. The free event will include food, a no host bar, and entertainment by performers such as Lora G Band & Nikki Lunden, DJ J. Yail, and Angel Bonilla.
Those attending this event should enter through the Robertson Gate Entrance.
More information is HERE.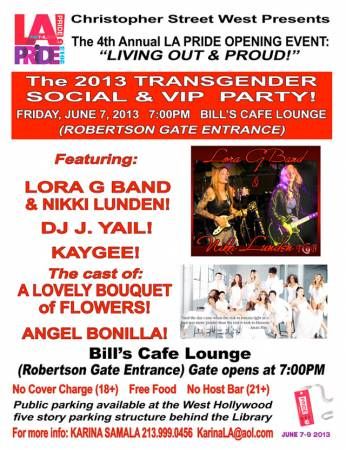 Festival celebration
The two-day LA Pride Festival includes many attractions that attendees of Pride celebrations have come to expect include dance floors, community information booths, vendors, food, entertainment, art displays, and more. This year's event will include all new dance venues, and old favorites like the Country Pavilion and Latino Carnival.
Headline performers include Ciara, The Pointer Sisters, Judith Hill and Kat DeLuna.
The full entertainment lineup is HERE.
Information about the festival's "Erotic City" is HERE.
The festival is held in West Hollywood Park, located between Santa Monica Boulevard, Robertson Boulevard and Melrose Avenue.
Tickets are $20, with discounts for seniors, people with disabilities, and veterans. Children under 12 and active military are free.
Festival hours are noon to midnight on Saturday and 11 am to 11 pm on Sunday.
Pride Run
Los Angeles Frontrunners presents the annual Pride Run/Walk, taking place in advance of the Pride Parade on Sunday morning. The event will feature a traditional 5K & 10K run, a 5K Walk/Race Walk, and a Kids Race. Also available is the Ultra Pride Run, where runners race both the 5K and 10K and the lowest cumulative time is the winner.
The race starting line is at WeHo City Hall, located at 8300 Santa Monica Blvd. The 5K kicks of at 7:30 am, 10K at 8:30 am, and Kids Race at 9:45 am.
More information and registration is HERE.
Parade
One of the largest and most inclusive parades in Los Angeles, the LA PRIDE Parade steps off at 11 am on Sunday and travels westbound along Santa Monica Blvd., from Crescent Heights Blvd., to the main entrance of the LA PRIDE Festival at San Vicente Boulevard. About 400,000 people will participate in this gathering showcasing the colorful diversity and creative community participation of the LGBT community.
This year's parade grand marshal is Maria Menounos, host of "Extra." Menounos was selected for the honor because of her dedication to the LGBT community and her continuing efforts using her platform to advocate for equality.
Menounos is passionate about various issues affecting the LGBT community including anti-bullying, HIV/AIDS and marriage equality. Through her public outreach, Menounos has lent her voice bringing more attention to these issues and has encouraged countless others to do the same. In continuation of her LGBT support, Menounos will be the focal point in this year's LA PRIDE Parade encouraging attendees to celebrate diversity and stand up for equality.
"The LGBT Pride Parade represents something truly American. It's the celebration of community, a celebration of uniqueness, diversity and progress, and it's the celebration of a new United States where we do more than "tolerate" or "accept" our gay brothers and sisters, but embrace and celebrate them" Menounos said.
Parade attendees should plan to arrive early. Traffic will be closed on Santa Monica Boulevard between Fairfax Avenue and Doheny Drive, starting at 6 am on Sunday. Santa Monica Boulevard will re-open immediately at the end of the end of the parade, which may be as late as 4 pm.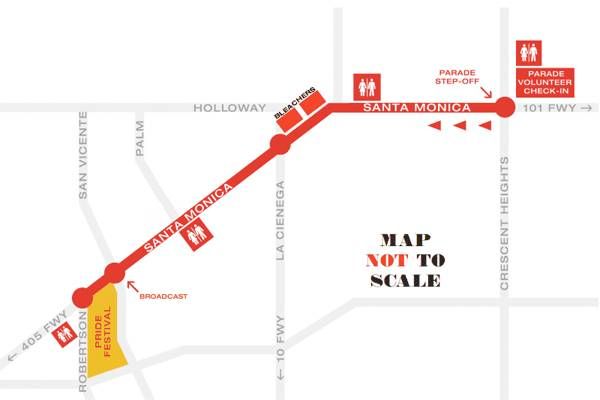 More information about the LA Pride Parade is HERE.
Other parties
SDGLN's Jim Winsor shares of roundup of LA Pride parties happening at various nightclubs, bars, pools, and private estates this weekend. Read his guide HERE.
Additional information about the LA Pride celebration is HERE.