by Ben Cartwright - Staff Writer
SAN DIEGO -- A newly created map of the Hillcrest neighborhood describes the area in ways that it is known better known by many of its residents and visitors.
Conceived by local graphic designer and owner of Raw Substance Design Raanan Rosenfeld, the map coins Hillcrest as "San Diego's Den of Sin" and pokes fun at many of the businesses and landmarks that are enjoyed by the area's regulars.
The humorous map breaks Hillcrest down into 9 districts - such as the "Tragic Mess Corridor;" "Brunch District;" and "Antique Crap District," and then lists popular spots along the way.
Highlights include:
- Urban Mo's (the last place you remember going before blacking out)

- Babycakes (Church of Our Holy Tank Top)

- The Hillcrest sign (magic portal making all who pass through it fun & fabulous)

- La Fuente (drag queen fight dinner theater)

- LGBT Center (advancing the "homosexual agenda")

- The Crypt (making innocent people at the bus stop look at S&M costumes)
Rosenfeld, who earlier this year created a popular map of San Diego and the stereotypes that make up certain areas, is a five-year resident of Hillcrest and said that he made the map because he loves the neighborhood.
"[Hillcrest] is a welcoming, eclectic, fun-loving place and I wouldn't want to live anywhere else," Rosenfeld told SDGLN. "Even though it might seem like I'm making fun of [the neighborhood], I think it gives people a sense of community pride to see their neighborhood satirized like this."
As for the name of the map - "San Diego's Den of Sin" - Rosenfeld said he got the idea from an article he once read where an anti-gay religious group that was opposed to the annual LGBT Pride Parade that passes through Hillcrest called the neighborhood a "den of sin."
Rosenfeld said he thought the title had a nice ring to it so he titled the map as such.
When asked if he had plans to make maps of any other San Diego neighborhoods, Rosenfeld said that he is sticking to what he knows, and that is Hillcrest.
Check out a portion of Rosenfeld's map below (full map is HERE). Do you agree with his characterizations of San Diego's most fabulous neighborhood? Please leave your comments!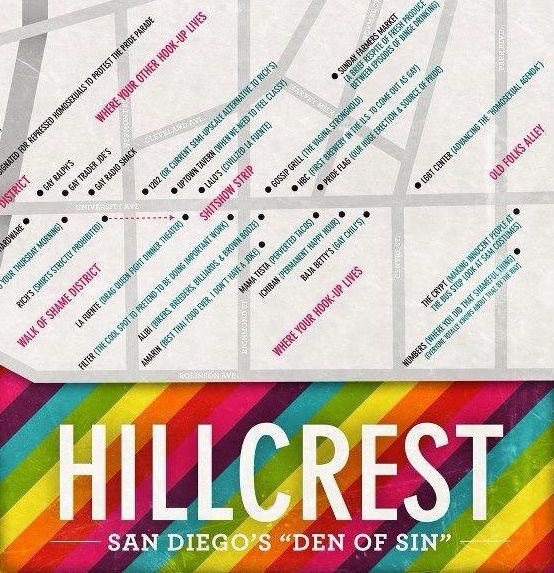 Click
HERE
to see a larger version of the map.