Just two days away from its annual Bachelor Auction fundraiser, the San Diego Gay Men's Chorus now presents the final set of bachelors who will be up for bid at the Sunday, March 24 event.
We introduced readers to Bachelors 1-5, and 6-10 earlier this week, and today, we share profiles of Bachelors 11-14, which include two members of SDGMC's staff, a special "guest" bachelor who is a local bartender, and another chorus singer.
The fundraiser will help SDGMC better meet its mission of creating a positive musical experience through exciting performances that engage audiences, build community support and provide a dynamic force for social change. The chorus's next show is "Rocket Man: The Music of Elton John," taking place April 13-14 at the Birch North Park Theatre.
Sunday's event will include a chance to mix and mingle with the bachelors and other chorus members, a raffle, entertainment, drink specials, and the auction. Winning bidders will be given a dinner package and limo transportation to be used with their bachelor immediately following the event.
The event will be held at Flicks, located at 1017 University Ave. in Hillcrest.
Meet Bachelors 11-14 below:



Bachelor #11: Benny
Bachelor #12: Ryan
Bachelor #13: Kevin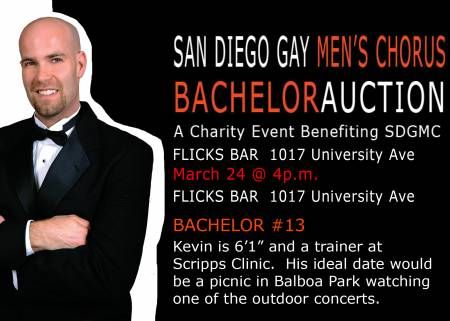 Bachelor #14: Jose
More information about the San Diego Gay Men's Chorus is
HERE
.
To make a donation, click HERE or contact Ben Cartwright at 877-296-7664 ext. 9 or executivedirector@sdgmc.org.