SAN DIEGO -- The San Diego Gay Men's Chorus (SDGMC) will host its annual Bachelor Auction fundraiser on Sunday, March 24, to raise money for the programs of the 140-man nonprofit singing group.
The fundraiser will feature 14 men from the chorus's membership and staff who will put themselves out there to support the organization they love. Auction dates include a dinner package following the event.
SDGMC strives to create a positive musical experience through exciting performances that engage audiences, build community support and provide a dynamic force for social change.
On Monday, we shared the profiles of Bachelors 1-5 and today we look at Bachelors 6-10. On Friday, check back for profiles of the remaining Bachelors.
The begins at 4 pm Sunday at Flicks in Hillcrest.

Bachelor #6: Alberto
Bachelor #7: Red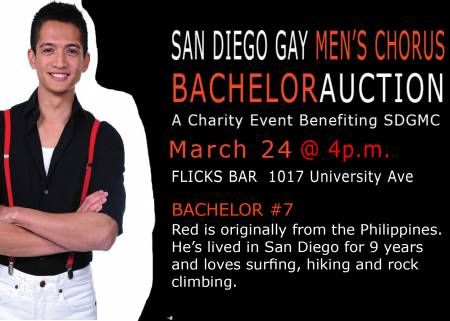 Bachelor #8: Beny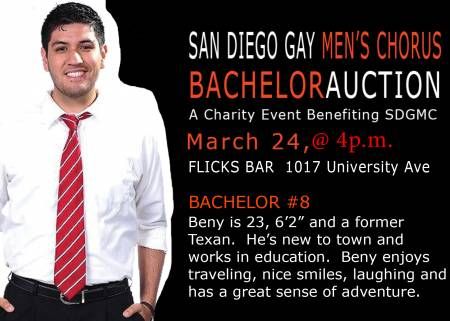 Bachelor #9: Andrew
Bachelor #10: Jonathan
More information about the San Diego Gay Men's Chorus is
HERE
.
To make a donation, click HERE or contact Ben Cartwright at 877-296-7664 ext. 9 or executivedirector@sdgmc.org.