SAN DIEGO – Eight years after his passing, John McCusker's spirit lives on. McCusker, a beloved local business owner and leader in the San Diego LGBT community died on March 13, 2005.
McCusker, who owned Club Montage and ReBar, was well-connected and always lent his support to numerous organizations and causes.
Passing away at just 31 years old, he had achieved things in his short life that many could only dream of, even after their own decades-long careers.
McCusker opened Club Montage in the building that formerly housed the popular West Coast Production Company (WCPC) when he was only 21; but despite his young age and lack of experience, he grew the venue into one of the top nightspots in the nation.
His business successes allowed him to give much back to the community through various organizations, like the Harvey Milk/Tom Homman Student Scholarship, the Polinsky Center, GLBT Vote 2000, Ordinary Miracles, The Center, and numerous HIV/AIDS service providers.
McClusker's passing was a shock to the community in March of 2005, and many posted sentiments online in his memory.
The San Diego Human Dignity Foundation still maintains a fund in McCusker's honor, which provides scholarships to students pursuing higher education opportunities.
On Facebook yesterday, community activist Dora Guillen posted a brief photo tribute to McCusker:
"It's been 8 years since you left us and your smile still makes us smile. We had some good times John John & think of you often ..."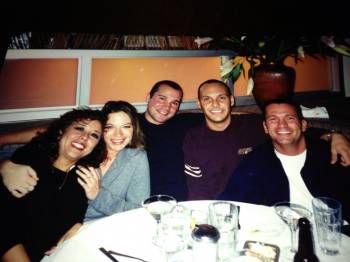 Michael Mack also posted a tribute to McCusker, with numerous people commenting on the post sharing their love and memories:
"I miss my John boy!!! Wednesday will be 8 years I miss him more and more every day!"
San Diego Gay & Lesbian News and many in the San Diego community continue to remember McCusker, his life, and the many contributions he made for the betterment of all LGBT people.