by Ben Cartwright - SDGLN Staff Writer
As we continue to hear news every day about kids being cruel to each other in schools and online - which has led to a number of lives being taken far too soon - it was refreshing to see an example of school children doing something to combat the bullying that plagues our communities.
A close friend of mine works at a local elementary school and posted to her Facebook page a photo of a poster some of the students made and hung on a school wall: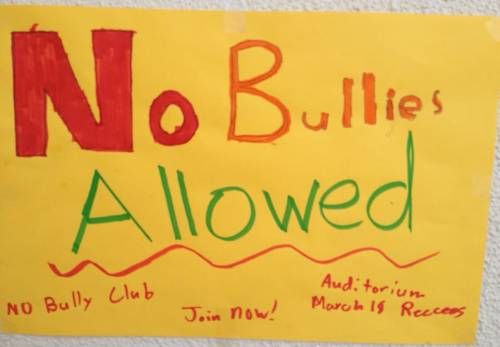 My friend is a huge supporter of equality and an anti-bullying advocate so I assumed she had something do with this.
"Did you put this idea into their heads? Are you the advisor of this 'No Bully Club'?" I asked her. She told me that the kids absolutely came up with this on their own with no prompting from any member of the school's staff.
How I would love to be a kid again and be able to attend this March 18 meeting and join the "No Bully Club" as these student organizers request on their poster.
As simple as it seems, this is activism at its finest and these youngest members of our community have taken a problem that affects them into their own hands. Instead of fighting back, they are speaking up.
I have hope for the next generation. Yes indeed, the kids will be all right!