by Ben Cartwright - SDGLN Staff Writer
SANTA ANA, Calif. -- Southern California's LGBT community loves to show its Pride: Nearly a dozen celebrations are scheduled each year from Tijuana to Palm Springs to Ventura. This weekend, Pride revelers will head to Santa Ana for OC Pride, a growing celebration in Orange County that is smack-dab between San Diego and Los Angeles.
Unknown to many, OC Pride has a history dating back nearly 25 years, starting with a festival in 1989 that incited a clash between attendees and anti-LGBT protesters. The full history is HERE.
Today, OC Pride has grown larger, and has attracted entertainers like Dave Aude and Luciana, who will perform on the main stage on Saturday. Once a small celebration, the festival now attracts thousands of fans.
Besides the festival, surrounding businesses and organizations will host a number of other Pride events to celebrate the growth of the LGBT community in the OC.
OC Pride Festival
The festival will take place Saturday, Aug. 10 from noon to 10 pm on the streets of downtown Santa Ana, near Fourth Street.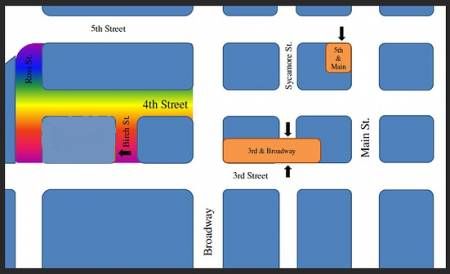 The festival is free to attend, but donations are accepted to help offset costs.
OC Pride includes a beer and wine dance tent, a Latin Dance Tent, The OC Pride Rainbow Symposium, and a kids area.
Other attractions include vendors, community organization information booths, and other features that people have come to expect from these types of celebrations.
Other events
The Official OC Pride Kick-Off Party will take place Friday, Aug. 9 at The Velvet Rope Club in Santa Ana, featuring music by world renowned DJ Kimberly S, and Chad Michaels.
The event, which is for those 21 years and older, will include give-aways, drink specials, music and dancing.
There is no cover before 9 pm.
The club will also be open all day on Saturday, Aug. 10 with the menu and full bar available. The Official Pride Closing Party begins at 8 pm, and will be hosted by Shannel.
Ladies Night, presented by Pink Kitty, will be held Saturday, Aug. 10 at Bistro 400.
The Pride Brunch will be held at Velvet Lounge on Sunday, with seatings at 11 am and 1 pm. The event will include a drag show, gourmet brunch and bottomless mimosas.
The Velvet Lounge is located at 416 W. 4th St. and Bistro 400 is located at 400 W. Fourth St.
If you go
In normal conditions, Santa Ana is about a 1½-hour drive from San Diego. Additional details about OC Pride, including entertainment lineup, hotel suggestions and other attractions is HERE.