by Nicole Grodesky - Special to SDGLN
SAN DIEGO -- Lauren Callahan is a gifted athlete who is especially gifted in the sports of snowboarding, skateboarding and surfing. Originally from West Chester, Pa., Callahan relocated to San Diego three years ago and continues to excel in the sports that she loves.
Callahan has competed in many amateur snowboard competitions and won enough metals to sink a raft, but she hasn't stopped there. She recently competed in a special invite skate contest, the Vans Combi Classic, where she placed fifth overall in her division.
"I've been skating just about 13 years now and I have solid positioning and style, and what I really worked on was consistency," Callahan said. "I made sure that I created a few new lines and I added in one new trick, which I successfully completed in the contest. I was very consistent landing all my airs and grinds. With my experience I have an idea of how they judge, and I did my best to go as fast as I could and stay on that board and I was successful."
Callahan's path to competing in the prestigious skating event can be traced all the way back to her competitive years as a snowboarder. She learned to ski on family trips, and at the age of nine, she hung up her skis and traded them in for a snowboard.
"I reached a point with skiing where I needed to progress or just stop," Callahan said. "I was a speed demon, and I just wanted to go fast and ski how I wanted to ski. Then I saw people snowboarding and thought it looked way more fun, and that's when I asked to take a lesson. After my first lesson I got the connection. I was able to transition from heel side to toe side edge, and a light bulb went on in my brain and after that, I knew I wanted to stick with snowboarding."
With need for speed, Callahan eventually started competing in boardercross, which is a race that combines freestyle snowboarding elements, slolam, and slopestyle. Boardercross is unique because it is a specially designed obstacle course that incorporates jumps and burms with step-ups and step-downs. The goal is to negotiate all the obstacles while going around marked gates that you have to navigate around.
"You have to make it through all the gates with the objective of getting to the finish line first, but you must go through all the gates," Callahan said. "The gates are set up around obstacles, and the courses get pretty creative, but everything surrounds going through the gates. You're racing between three and six people, so it could be you and five other people going over a jump at once. It's a great spectator event."
Because Callahan didn't have the access to train like people from Colorado, as a competitor from Pennsylvania she had to try a little harder. A big win that gained her recognition was when she placed second in Boardercross in Northstar, Lake Tahoe. After that, her snowboarding took off with a sponsorship from Roxy and eventually a gold medal in slalom in the USASA Nationals.
"I was thrilled to be accepted onto the Roxy Mountain Project team in 2008. It pushed me to strive harder to place gold," Callahan said.
During the off seasons Callahan skateboarded while she was still in high school. She used to play around in the driveway at her family home in West Chester, Pa. After graduating high school, Lauren moved to Philadelphia for college. It was in Philly where she made friends with her roommate who was also into skating.
Her roommate wasn't into street skating, tough - she was into skating parks with bowls, ramps and pools. Callahan's roommate introduced her to the legendary skate park in Philly, FDR Skate Park, which was built by the locals of Philadelphia underneath Interstate 95, and has been described as a concrete skateboard "paradise." Callahan learned how to skate at the legendary skate park and developed a love for skating bowls. After seven years of skateboarding, Lauren entered her first skate competition.
"My first amateur [skate] contest was in Colorado where I was competing in the USASA National Championships for snowboarding," Callahan said. "I saw a flyer in a shop for a skate contest with a tiny indoor bowl. It was fun, and I won a few prizes."
Since then Callahan has competed in a variety of skate contests. Her most recent skateboarding accomplishment was taking fifth place at the Vans Girls Combi Pool Classic, which is the biggest pool competition in the world for the women with more than 50 girls and ladies in three age divisions. The contest is hosted by Vans every year and the only way an athlete is able to compete is by invite only.
"I got the email about the contest and they [World Cup of Skateboarding] asked me for some highlights and when I sent them that, they immediately put me in the pro division," Callahan said. "It was a big deal for me because I was competing against people that I never thought I would even meet in my life, people that I have respected since I was a child. I was just honored to compete against these women, it didn't matter what place I got. I was just honored to be there."
Since Callahan's first appearance in the Combi Classi she has progressively placed higher and higher in the overall results. She trained really hard this year, making sure to land every trick consistently and smoothly so that she would place better.
Learn even more about Callahan below:
When and how did you get into skateboarding?
I started skateboarding my last year of high school. I would play around on my driveway a few times a month and practice basic tricks. I moved to Philadelphia when I was 19 to go to college. I started skating more frequently. I had roommate who skated, and we would take the subway down to a skatepark in South Philly called FDR. It was built by locals underneath highway 95 in FDR park.
When did you start competing?
I started competing in 2008 after I had been skating over 7 yrs. There was not a lot of opportunity in the Philadelphia area to compete in skateboarding. My first amateur contest was in Colorado. I was out there competing in snowboarding at the USASA National Championships. There was a flyer for a skate contest in at a shop with a tiny indoor bowl. It was fun, and I won a few prizes.
How many competitions have you been in?
Between skateboarding and snowboarding I've been in a lot of competitions. Specifically skateboarding here are a few highlights:
July 2008 – Maple Shade Skatepark Maple Shade, NJ Event: Vans Warped Tour Qualifier
Type: Bowl Event Place: 4th in Boys Division (Amateur)

July 2008- Camden, NJ Vans Warped Tour Mini Ramp Jam – No placement. No Contest (Amateur)

March 2009- Florida Bowl Riders Cup (3 contests, 3 parks, 3 days)
Place: 7th Overall (Ladies Division) Amateur

June 2009- Mid Atlantic Skateboard Series
Arlington, VA Bowl Contest #1 Place: 2nd in Girls Division (Amateur)

July 2009- Mid Atlantic Skateboard Series
Waldorf, MD Bowl Contest #2 Place 1st in Girls Division (Amateur)

November 2011- Orange, CA Event: Vans Combi Classic (Bowl contest)
Place: 12th (Ladies Pro Division)

January 2013- Orange, CA Event: Vans Combi Classic (Bowl contest)
Place: 5th (Ladies Pro/Am 28yrs + Division)
What is it like being a female skateboarder?
It's awesome. I have fun, and I don't let anyone's negativity drag me down. I'm not trying to make a living off of skateboarding so I have no worries in that way. It's a struggle and a challenge to earn a living as a pro female skater even if you are the best pool skater in the world.
How long have you been an out lesbian?
I've been out for 10 years.
Tell us about your awesome girlfriend.
She rips at surfing and she's an amazing photographer.
What is it like being gay in the skateboard industry?
Most of my friends and competitors know that I'm an out lesbian. I have introduced my girlfriend to almost everyone and have been given respect and support. Thankfully I have never received any bad vibes or nasty remarks about my sexual orientation from skaters. I know that there are people working within the industry that discriminate against girl skaters who have a masculine appearance. They overlook talent and unfortunately some of the girls they judge do not get the recognition they deserve. Sadly, it all comes down to business and marketing. You're worth more if you're attractive and marketable. It's the same in every sport. I'm not a top pro so I haven't directly experienced discrimination or any type of advantage due to my appearance. I have witnessed friends who are deserving of good sponsors and endorsements get passed because they look like a tomboy.
Photos of Lauren in action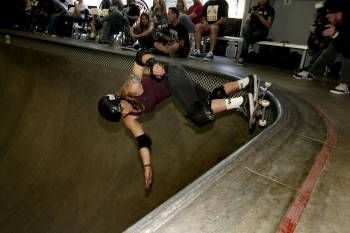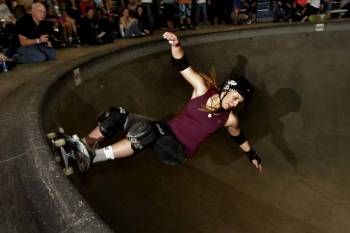 If you or someone you know should be profiled on SDGLN, contact Ben Cartwright at ben@sdgln.com.
Nicole Grodesky is a surfer, photographer, and writer. Check out her work HERE.