by Amanda Terkel - HuffPost Gay Voices
WASHINGTON DC -- If everything goes as he hopes, Evan Wolfson will soon be out of a job.
Wolfson, 58, is widely considered a key architect of the marriage equality movement. In 2003, he started Freedom to Marry to campaign for national recognition of same-sex marriage.
On April 28, the U.S. Supreme Court will hear oral arguments in four cases that could settle for once and for all whether same-sex couples have a constitutional right to marry. A decision is expected in late June.
"Assuming we do win the long-sought, hard-fought victory in June, Freedom to Marry -- this campaign -- will have achieved its mission," Wolfson told The Huffington Post in a recent sit-down interview. "And we will end the campaign. We will close down."
"So just roughly speaking, assuming we win in June, I would expect that a year from now, I'll be out of a job," he added.
Wolfson underscored several times that he's not taking anything for granted until June, seeming almost nervous that even talking about victory might jinx the outcome he's fighting for.
"I hope you will really make clear that we're going 100 percent full steam, we are winning, but winning is not won, and it's not a done deal until it's done," he stressed. "So we're not getting over-confident or cocky or anything. We have a lot of work to do."
Wolfson's involvement in the marriage movement started long before 2003. He's been called "the Paul Revere of marriage" for going around the country and telling everyone that marriage equality is coming -- even at times when LGBT advocates thought the possibility was remote.
As a student at Harvard Law in 1983, he developed one of the earliest arguments for why legalizing same-sex marriage was crucial to winning broader equality for gay Americans.
And in 1993, when the Hawaii Supreme Court became the first appellate court in history to rule fully in favor of marriage equality, Wolfson was one of the two lawyers representing the victorious couples. (Hawaii voters later passed a constitutional amendment overturning the decision, although the governor and the legislature came together in 2013 to finally legalize same-sex marriage in the state.)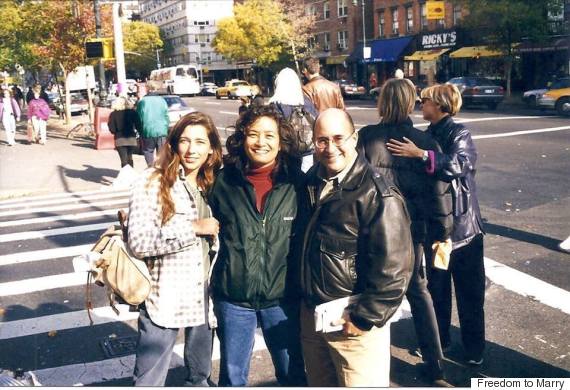 Evan Wolfson with Ninia Baehr and Genora Dancel, two of the plaintiffs in the Hawaii marriage case, as he traveled the country in the 1990s.
A particularly sweet victory for Wolfson was in 2011, when New York made marriage equality official. That meant that Wolfson was finally able to marry his partner, Cheng He, in the state where they lived.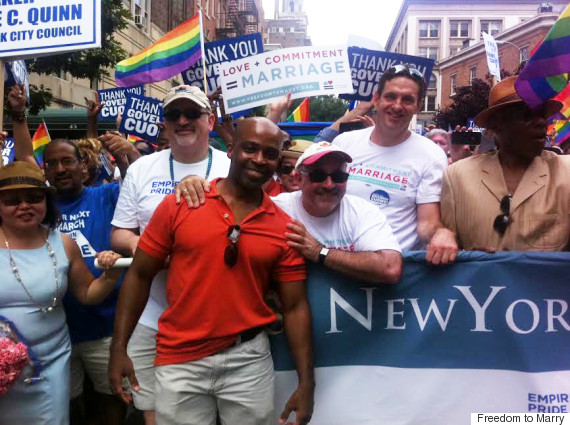 Evan Wolfson at the New York Pride Parade in 2011, with Alphonso David, counsel to New York Gov. Andrew Cuomo (D), and Mark Solomon, Freedom to Marry's national campaign director. The parade was the weekend after Cuomo signed the legislation legalizing same-sex marriage.
Most advocacy groups pivot to a new issue once a major legislative fight is over, or they're working on multiple issues at once. But Wolfson is clear that Freedom to Marry will be different.
"We will spend some time -- I'm talking about months, not years -- communicating ... that that victory is understood and embraced," he said. "And I'm quite confident it will be. But you still have to do the work."
"Then we will spend some time in a smart and strategic wind-down. We want to archive. We want to document the ups and downs. We want to share the experience and information we have with our movement colleagues and others. We want to capture the oral history. We want to make sure it's all transferred and archived in a smart way," he added. "Once that's all completed, we will close down."
There are currently 37 states, plus the District of Columbia, where same-sex marriage is legal. But even in those states, everything hasn't been running smoothly. Probate judges in Alabama are refusing to issue same-sex marriage licenses due to an order from the conservative state Supreme Court.
State lawmakers nationwide are also looking for ways to undercut marriage equality, coming up with bills that would allow businesses and individuals to refuse to recognize a couple's marriage based on religious beliefs.
Wolfson didn't seem particularly worried about these challenges, saying he's confident that if the Supreme Court affirms the constitutional right to marriage equality, the barriers will fall -- just as they did when interracial marriage became legal. But Wolfson still does see a threat in these so-called "religious freedom" bills, which would allow businesses and individuals to discriminate in other areas if it's in line with their personal beliefs.
"It's more a nondiscrimination question than a marriage question," he said. "I think the American people have accepted the freedom to marry, officials will implement the freedom to marry, people will have the freedom to marry. But we want to make sure, of course, that they also have protection against discrimination and win the other protections that don't yet exist into law."
"There is no federal law prohibiting employment discrimination, prohibiting housing discrimination, prohibiting discrimination in public accommodations," he added. "There are many states in which there are no such legal protections even at the state level. And there is the typical right-wing tactic of trying to carve out exemptions from whatever civil rights protections do exist. That is yet again resurgent in several state legislatures. That's a real threat that is already underway, even before the Supreme Court rules."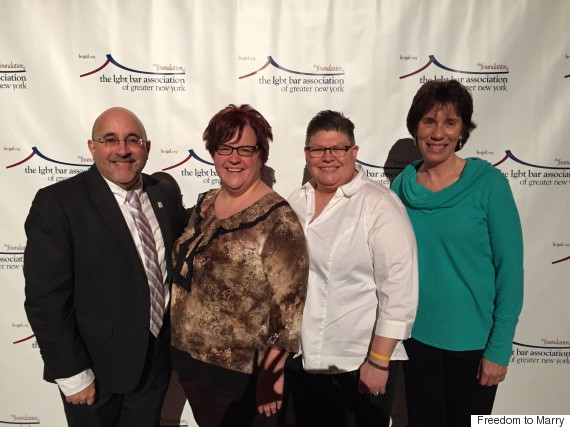 Evan Wolfson with the lead plaintiffs in the Michigan marriage case going to the Supreme Court: April DeBoer and Jayne Rowse, and their lawyer, Carole Stanyar.
Still, the lengths to which the right has gone to stop loving same-sex couples from getting married have surprised Wolfson over the years. He said he never anticipated that people like Republican strategist Karl Rove and other anti-gay forces would actually fight to amend state constitutions to explicitly ban same-sex marriage.
"I certainly anticipated the challenge of rallying people to what seemed, at the time, a very distant and difficult goal," he said. "I didn't anticipate that the anti-gay side and so much of the political leadership at one time would be so reckless as to not only defend anti-gay laws and not even try to pass new laws, but to actually take the radical step of amending constitutions as to literally try to cement that discrimination in."
At its height, 29 states had constitutional amendments barring same-sex marriage.
This effort went beyond just the state level. In 2004, President George W. Bush endorsed amending the U.S. Constitution to define marriage as being between one man and one woman. Over the years, his campaign team -- led by Rove -- used the issue of same-sex marriage as a wedge issue to win elections.
Showing how far public opinion has shifted, even John Kerry, the Democratic presidential nominee in 2004, endorsed amending the Massachusetts Constitution to ban same-sex marriage, as long as there was a law allowing for civil unions. He opposed the call for an amendment to the U.S. Constitution though.
There still are some diehards who aren't yet willing to give up the fight, even though they are no longer in the mainstream. Sen. Ted Cruz (R-Texas), Louisiana Gov. Bobby Jindal (R) and former Arkansas Gov. Mike Huckabee (R) are some of the few who have said in recent months that they still would like to see a constitutional amendment.
But those individuals are increasingly in the minority. Freedom to Marry's roadmap has followed three tracks: winning at the state level, increasing public support for marriage equality and ending federal discrimination. The group has been public about its strategy, posting it on its website. It has started groups like Conservatives for the Freedom to Marry and Southerners for the Freedom to Marry to reach out to constituencies that have been more reluctant to embrace same-sex marriage.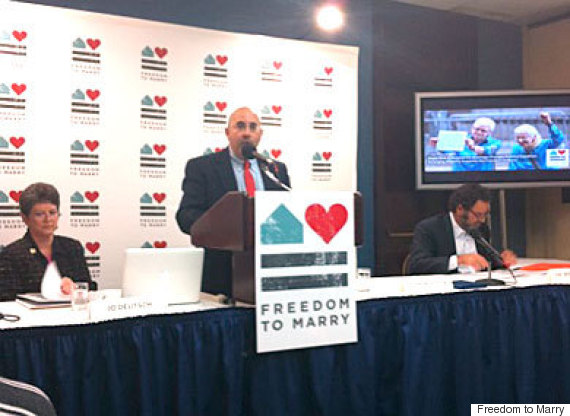 Evan Wolfson at the National Press Club in 2011, discussing polling trends with Obama pollster Joel Benenson, Bush pollster Jan van Lohuizen, and Freedom to Marry Federal Director Jo Deutsch.
With most states now recognizing same-sex marriage and a majority of the country in support, the focus is now on full federal recognition -- and with it, marriage equality in the rest of the country.
The Supreme Court will be looking at two questions in April: Does the 14th Amendment require a state to license a marriage between two people of the same sex? And does the 14th Amendment require a state to recognize a marriage between two people of the same sex when their marriage was lawfully licensed and performed in another state?
"While not counting our chickens before they're hatched and not leaving any stone unturned and not pausing for a moment and maximizing our chances of winning, we are very hopeful that the country is ready and the court is ready," said Wolfson.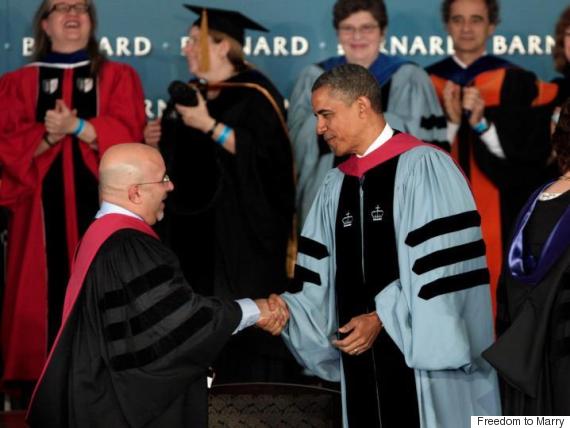 In 2014, Evan Wolfson received the Barnard Medal of Distinction along with President Barack Obama.
Wolfson said he's often asked what he'll do next, if the Supreme Court does affirm the freedom to marry in June. He said he isn't sure yet and wants to spend some time thinking about what else he's passionate about.
"But Freedom to Marry will close," he added. "And I will, I hope, have another chapter. I don't know what it is yet."
Want more updates from Amanda? Sign up for her newsletter, Piping Hot Truth.

* * *
(Editor's note: This post was originally published on our media partner HuffPost Gay Voices.)