by Christopher Rudolph - The Huffington Post
Camp Pride, Campus Pride's Summer Leadership Program, runs through Sunday, July 21.
The annual event, this year held at Vanderbilt University in Nashville, Tenn., offers programs where lesbian, gay, bisexual and transgender (LGBT) students and their youth allies learn how to become leaders and advocates which results in a stronger LGBT presence and network on their respective college campuses.
Over 70 students from 46 colleges nationwide will be able to listen to guest speakers such as the first transgender athlete for the National College Athletic Association, Kye Allums, political commentator and former Clinton White House official Richard Socarides, and many others, while participating in team building and leadership exercises.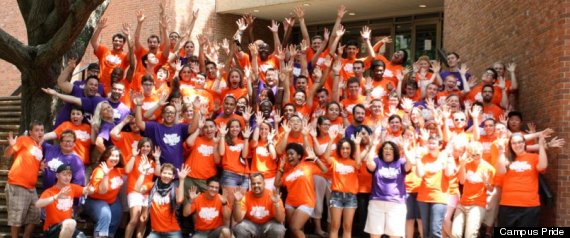 Aside from teaching students leadership skills, Campus Pride will also hold an Advisor Bootcamp. A Professional Academy for Advisors, Camp Pride describes the bootcamp as a "five-day skill-building retreat [that occurs] in tandem with Camp Pride and is designed for higher education professionals who work with and/or support LGBT and ally people/issues."
Though LGBT equality and acceptance have seen huge gains in recent years, queer youth are still bullied and mistreated for their sexuality and gender, and Camp Pride is hoping to rectify this with their annual educational leadership workshop that brings together some of the nation's most politically active LGBT college students.
Campus Pride represents the leading national nonprofit 501(c)(3) organization for student leaders and campus groups working to create a safer college environment for LGBT students. The organization is a volunteer-driven network "for" and "by" student leaders.
For more information on Campus Pride's Camp Pride, click here. For more information on Campus Pride, click here.
To visit HuffPost Gay Voices, a content partner with SDGLN, click HERE.